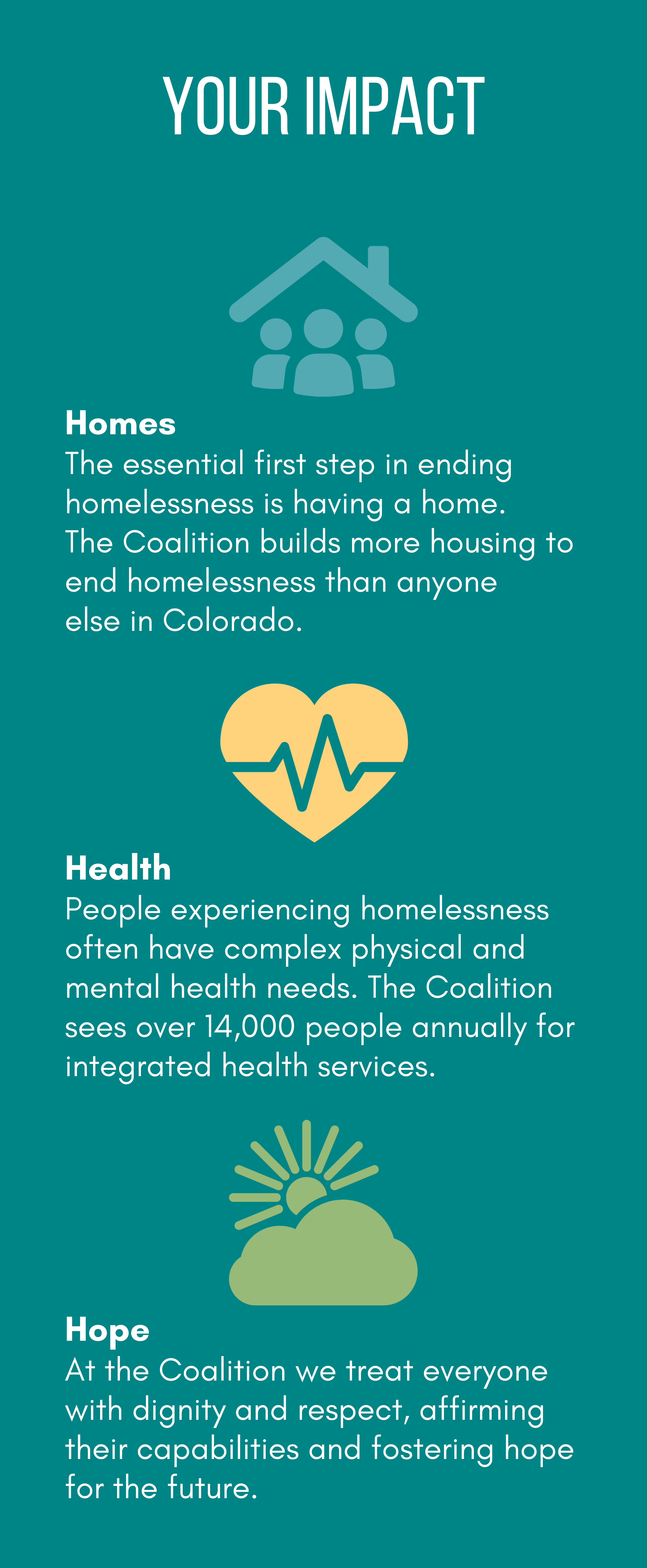 Ways to Give
Donate Stock
The Coalition gratefully accepts gifts of publicly traded securities. For the donor, securities are easily valued without an appraisal and easy to transfer. Donating appreciated securities before they are sold typically results in tax advantages to you:
You can deduct the current market value of your stock gift from your federal taxes.
You pay no capital gains tax on the appreciated value.
Your stock gift of $5,000 or more can qualify for the Homeless Contribution Tax Credit for 25% of the donation.
Colorado Coalition for the Homeless Stock Transfer Details
Fidelity Investments (800-343-3548)
For Credit To: Colorado Coalition for the Homeless
Account Number: Z50-669288
DTC Number: 0226
Taxpayer Identification Number: 84-0951575
You may make a stock gift here or call (303)-312-9640 to inform us of your incoming gift. 

Donate from your IRA
If you are age 70½ or older, you may donate up to $100,000 per year from your IRA.  This option allows you to donate from pre-tax dollars, increasing the value of your gift while preserving available cash on hand.  This option works best for people who claim the Standard Deduction, and your gift amount can also help fulfill your Required Minimum Distribution (RMD).  Your gift can also qualify for state tax credits, further reducing your total tax bill.
Direct your IRA administrator to make a direct transfer to the Coalition:
Colorado Coalition for the Homeless
(Taxpayer Identification Number: 84-0951575)
PO Box 1560
Denver, CO 80201-1560
To properly receipt and acknowledge you for your donation, please make sure to contact our office with your intentions before the transfer. For more information on donating stock, mutual funds, bonds, or other securities please contact us at giftplanning@coloradocoalition.org.
Give Where You Work
Ask if your employer offers the option of giving through payroll deduction as part of a United Way, Combined Federal Campaign (CFC #56182) or workplace giving program. Simply designate the Coalition to receive your gift and specify how much you would like to give. Your Human Resources department will have more information and can tell you if your gift will be matched.
Leave a Legacy by making a gift from your estate
Click here to learn more about our Lasting Solutions Society and how to make a legacy gift through your estate.
Crowdfund Homes, Health, and Hope
You can set up a personal fundraising page where your friends and family can make donations. 
Click here to learn more. 
Donate Your Vehicle
We partner with Vehicles for Charity to accept vehicle donations.  The process is easy and they accept all vehicles, including cars, boats, motorcycles, campers and other vehicles.
Donate Items
At times we need specific in-kind donations that we distribute to patients, clients and residents. To learn more about what items we are currently in need of, click here.
Volunteer with Us
Volunteer opportunities are available for groups and individuals including medical professionals and everyday citizens who want to work towards an end to homelessness. Visit our Volunteer page to learn more.
Have Your Gift Matched By Your Employer
Matching gifts increase the impact of your gift and double or triple your donation! Use the search tool below to see if your employer will match your gift.
Matching Gift
and
Volunteer Grant
information provided by