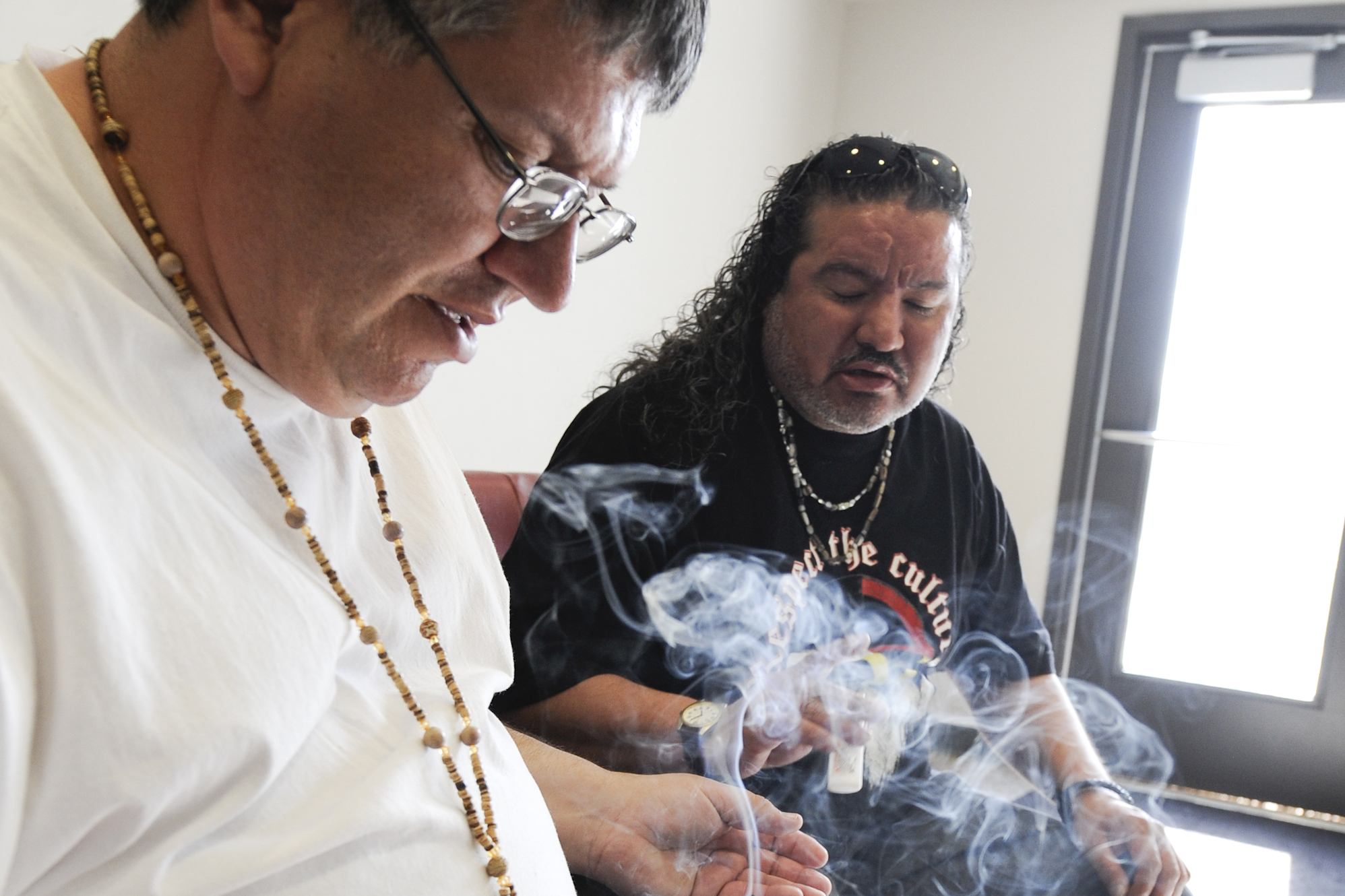 Native American Services (NAS)

Programming
Native American Services (NAS) has been facilitating Talking Circles and culturally-celebratory programming since 2003, and has expanded to include dedicated Outreach Case Management and White Bison Inc.'s "The Red Road to Wellbriety" recovery groups.  
Weekly Talking Circles are a vital part of the Coalition's Native American Services program. Talking Circles are considered a sacred space where Indigenous Peoples share information and stories confidentially to promote healing in their lives and build community. Find the scheduled Talking Circle Gathering times through the calendar below. 
Native American Services Outreach Case Management works collaboratively within CCH, especially with providers at the Stout Street Health Center and colleagues in the Department of Outreach and Engagement Services, and externally with homeless service providers and Indigenous-serving organizations to maintain optimum care coordination, communication, and continuity of services for our unhoused relatives. 
In addition to the weekly Talking Circles at CCH and in other community locations, NAS also offers Red Road to Wellbriety recovery groups and classes twice annually and coordinates a calendar of seasonal events, outings, and celebrations. 
Native American Services is a program for all Indigenous Peoples from a wide spectrum of Tribal Nations seeking support, recovery, and connection to culture, including those who may have little or no concept of their history or traditions.  
No referral is needed. All Indigenous people are welcome to join our Talking Circles and other cultural programming, but please see the calendar for more details.  
LAND ACKNOWLEDGEMENT
A land acknowledgment may sound like a simple task, but as an Indigenous led program we know this cannot be one of those performative land acknowledgements you see and hear at white institutions.  
It cannot be a historical paragraph suggesting the stewards of this land no longer exist.  
Instead, it should be rooted in the present, a celebration of existence, perseverance, and an acknowledgement of how the original caretakers of this land continue to honor their sacred responsibility. 
The Native American Services program at CCH would like to celebrate, honor, and acknowledge the Cheyenne, Ute, and Arapaho nations, as well as the 48 contemporary tribes who have historical ties to the land on which we reside.  
We recognize and acknowledge that the unceded ancestral land we currently occupy is the land where our Cheyenne, Ute, and Arapaho relatives work, gather, raise their children, share knowledge, practice their traditions, and care for Mother Earth, as they have always done, since time immemorial.  
In addition, Native American Services would like to honor with gratitude the land and waters surrounding us and the many gifts they provide.  
We hope for those of you that are non-Indigenous you walk away wanting to know more about the original caretakers of this land. We hope when you hear or read a land acknowledgement in the future that you question how the words being shared benefit the people written into it. And then when you realize it does not, we hope you do more.  
Below you will find links for the websites of the tribal nations that were mentioned in this land acknowledgement. Native American Services encourages readers to educate themselves about the original caretakers of this land and the projects they are currently working on.  
We would also like to remind readers that this acknowledgement is not yours to take, it is the property of the Indigenous writer who used their time and Indigenous knowledge to practice an Indigenous tradition that has existed since time immemorial.  
NAS OUTREACH CASE MANAGEMENT SERVICES
NAS provides comprehensive case management services to unsheltered Indigenous adults and adult couples at NAS events and through street outreach in the Denver Metro area.  
NAS Outreach Case Management helps unhoused relatives connect to services and resources to survive, stabilize, and exit homelessness. Our services include: 
referrals to emergency shelter, Safe Outdoor Spaces, Transitional Housing, Bridge Housing 

referrals and navigation to medical care, behavioral healthcare, and substance treatment  

housing applications and housing systems navigation  
referrals to vocational programs and employment services 

assistance with obtaining vital documents, CIBs, and benefits 
Our program is not currently able to directly provide emergency shelter, motel vouchers, or crisis counseling. We do not currently have capacity to provide case management for housed relatives, families, or individuals currently receiving supportive services from other programs. When possible, we attempt to make referrals to other sources for these supports. 
LINKS TO OTHER INDIGENOUS ORGANIZATIONS
CALENDAR
All Native American Services events are held at 2100 Broadway unless otherwise specified. Reach out to the Program Manager with any questions.