Help with Housing for Families
Click here if you are a single adult or couple without children.
Click here if you are in need of help with housing and resources, and are out of the Denver metro area. 
Family Support Services helps to link your family experiencing homelessness (with children under the age of 18) to housing and many other services. Our experienced and dedicated staff are familiar with the unique obstacles families experiencing homelessness may face and work to provide resources and support throughout the housing process. Our goal is to work with you on your goals to achieve stability and help your family to overcome barriers and thrive.
Family Support Services Program provides the following services:
Emergency Shelter information and referrals
Housing information
Referrals to other agencies
Programming designed specifically to meet needs of children ages birth to 5 years old
Access to medical health services through the Stout Street Health Center
Access to free mental health services for individuals, couples, children and families through Family Support Services Clinical program
Diapers and baby supplies, including car seats when available
Advocacy, support, and problem solving in connection with social service agencies
Care Coordination services for survivors of intimate partner violence
Referrals to Renaissance Children's Center for early childhood education program and day care
Translation services are available in any language. 
Please note: We are unable to provide hotel/motel vouchers or immediate housing. For family vouchers, please call the Connection Line at 303-295-3366. 
ELIGIBILITY
Families experiencing homelessness with children under the age 18
Single parent, two-parent, same sex couples, and multi-generational families are all eligible for services
Families must have or be working towards at least 50% custody of one or more children under the age 18
If Child Protective Services is involved, there must be a plan for reunification
Pregnant individuals encouraged to attend
Access to our Rapid Rehousing program is now completed through the OneHome Coordinated Entry System. To complete the assessment known as the "VI-SPDAT", please speak with your current homeless service provider. 
Walk-In Hours
We are unable to provide walk-in appointments at this time. Please check back in the future for updates. For now, please reference this list of resources.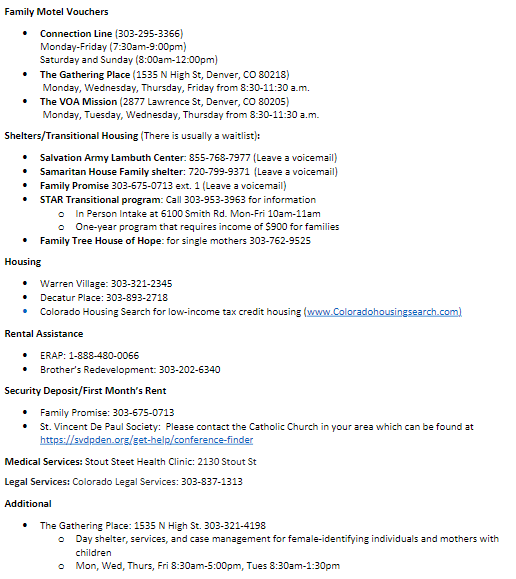 WHAT TO BRING
Individuals are encouraged but not required to bring originals or copies of the following items:
Photo ID
Social Security card
Birth certificate
Proof of income
LOCATION AND CONTACT
LOCATION
2100 Broadway
Denver, CO 80205
CONTACT
crinfo@coloradocoalition.org
Note:
Translation services are available in any language.